Root7 Bartenders Collection $120.00 from

Amazon
It's no secret that we love a good cocktail at root7.  Which is why we've worked with top bartenders to create a uniquely crafted mixologists' kit, with all you need to create the perfect cocktail.
2.      Original Stromtrooper Decanter $18 from The Fowndry
Impress your fellow clones and raise a toast to The Emperor with a few generous measures from the Original Stormtrooper Decanter, which can hold 750ml of your favorite Dutch courage
3.      USB Bottle Light £ from The Fowndry $12.00
The USB Rechargeable Bottle Light is a clever way to turn your old glass bottles into charming table lights. Upcycle your empties with the USB Rechargeable Bottle Light. This tiny, portable light fits like a stopper into any bottle to make a great table light or garden decoration.
4.      Soiree Chamgpagne Shot Glasses $21.71 from Amazon
The sophisticated way to drink. With each glass being styled like a champagne flute, you can still look classy whilst downing shots. Set of 4. Capacity of the shot glasses of 35ml. The shot glass is made from borosilicate glass, a high quality material with high tolerance to heat. Despite the glass being thin and light weight it's extremely durable and also resistant to chemical corrosion.
5.      Himalayan Salt Shots from Root7, $25.00
The shots are available as a set of 4 which is accompanied by a solid Acacia wood serving board and presented in a high-quality magnetic closing gift box. The naturally occurring colors of the salt and the grain of the wood make each set unique completely unique.
6.      Drink Rocks $44.00 from The Fowndry
Drink Rocks are the handcrafted designer stones that'll chill your whiskey without diluting the flavor. Like ice, but cooler.
7.      Soiree Diamond Shot Glasses from Amazon $24.99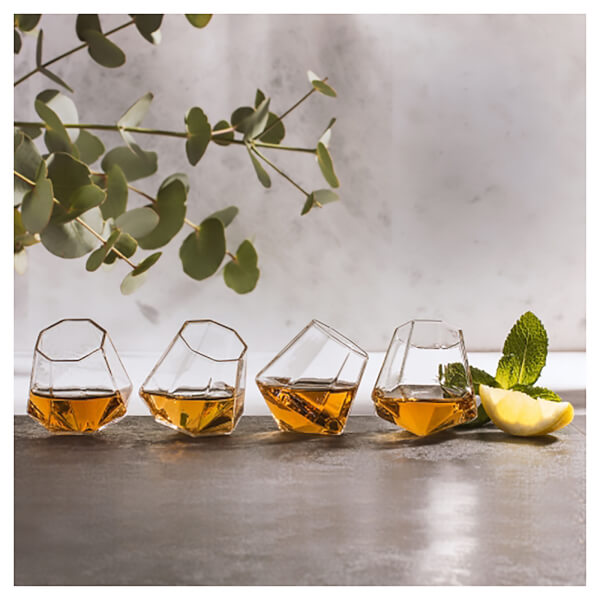 These Diamond Shot Glasses will add some class to your party. Uniquely designed in a diamond-inspired style, the mini shot glasses stand at an angle, perfect for rotating the glass to enjoy a full flavor experience. Made from high quality borosilicate glass that are durable and resistant to heat and chemical corrosion, the 50ml capacity glasses are great for fun evenings and celebrations.
8.     Diamond Shaped Whiskey Glass from Amazon $20.58
These unique tumblers are in a class of their own. Made from strong yet elegant lightweight borosilicate glass, they stand at an angle which allows you to rotate the glass for a full body of flavor when drinking your favorite liquor. They are ideal for whisky, scotch and brandy lovers.
9.     Geo Glasses from Root7 $18.00
Root7's 330ml Geo Glass takes inspiration from modern terrariums with a unique angular shape, emphasized by beautiful metallic styled edges.  The thick hand-blown glass gives it a weighty and sturdy feel while the lip has been crafted to provide a satisfying drinking experience.  Perfect for your favorite spirit or cocktail, as well as being suitable for everyday use at home.  Stackable & gorgeous, you can even use these to beautifully display your favorite succulent! 
10.  Mattherhorn Glass from The Fowndry $33.00
The Matterhorn mountain whiskey glass. Crafted from premium quality crystal, this dazzling tumbler features a solid, scale replica of the iconic Matterhorn rising from the center of the glass.